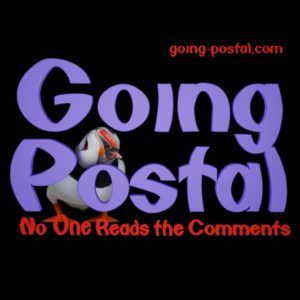 Welcome to our mirror site. What you are seeing is a backup of Going-Postal.Com that I made last weekend migrated to this domain with the new theme uploaded. I have only updated the 'Featured Images' for what you can see on the Home page so that it looks correct, clicking around you will see some blank spaces where 'Featured Images' should be, but this is just me having a trial run with the theme options. If you click on some of the posts you will see duplicated images, that is just another setting that needs updating, you will note it does not do that with this post.
There are several reasons to change the theme, some technical but mostly I like the way it showcases author's work. There is plenty still to do, you can see some placeholders as I just followed the theme setup instructions and entered headings but not necessarily any 'code'. There is plenty more to do, you wouldn't believe how much but the basics can be done in a few days. After that there are all sorts of things that can be done for added entertainment and interest.
I would appreciate if you click around and have a dig, not because I want to know what's not right, I know what's not right but for testing purposes it would help me. Obviously if something breaks let me know and if you can't see the comments, or this post then reply to me on Going-Postal.Com. The performance should be quite good so you could let me know what that's like and anything else technically related.
The look and feel is down to me, the site could look like just about any other site on the net, here you can see fifteen different example sites using this theme MH Theme Demo. Any thoughts and contributions are welcome.

© Swiss Bob 2018